Rangecast FAQ
[FAQ-1088] How to stop Rangecast software on a feed site PC (temporary stop, not decommission)
---
Page Type: REFERENCE
---
OVERVIEW
Rangecast software on a feed site PC includes a "watchdog" process that monitors for software faults, and may automatically relaunch the software if it is not closed correctly. The correct way to stop Rangecast is to click the Rangecast icon, and then press the Stop button.
---
METHOD
1. Launch Rangecast with the desktop icon.

2. Press the stop button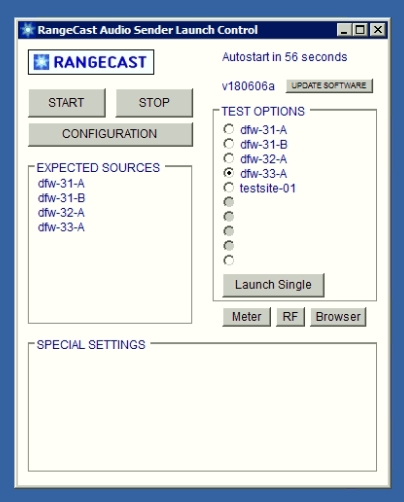 3. Wait about two seconds, to give the software a chance to exit gracefully.

---
EXCEPTIONS
This is to stop the Rangecast feed site software.

This is not to uninstall the Rangecast feed site software, or prevent the software from automatically starting when the PC is rebooted.

---
CITATIONS
SYMPTOM

SOLUTION
REFERENCE
INDEX
---
Images shown - [block]