Rangecast FAQ
[FAQ-1153] How to access Hub Administration
---
Page Type: REFERENCE
---
OVERVIEW
A hub administrator (e.g. someone with a Rangecast username that has been previously listed as having administrative permissions for a hub) can access administrative functions for the HTML5 system.

---
METHOD
1. Go to the HTML5 website at https://www.rangecast.com/beta/ and select "Hub Administration"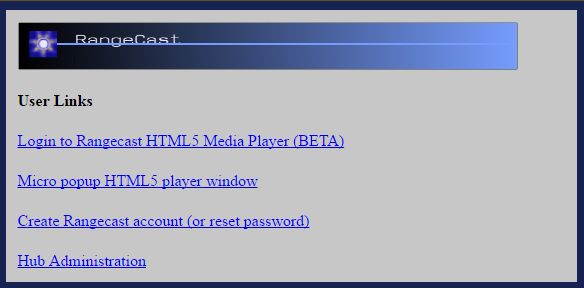 2. Enter your Rangecast username and password, and also the name of the hub that you want to administer. (Users may have administrative permissions for more than one hub.)

Important: Not all Rangecast users have administrative access, so the username and password you use to launch the Rangecast Player may not work in this context. Only Rangecast usernames previously approved as administrators can access this portal.

3. This brings you to an administrative screen where you can make changes.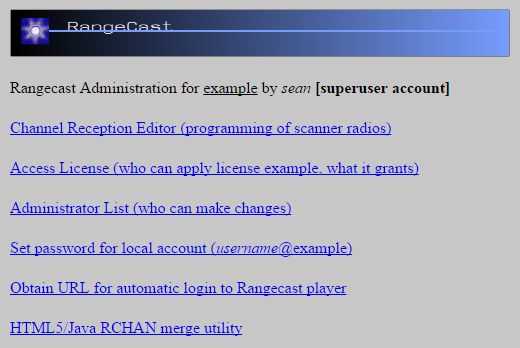 ---
REFERENCE
To give a Rangecast username administrative permissions:
---

[FAQ-1115] How to grant or remove permission to administer a hub

In the hub administrative section for a hub, there is a list of Rangecast user accounts with administrative authority over the hub. This list may be edited to add or remove users from the hub's list of administrators. In addition to the accounts explicitly listed here, Rangecast administrators always have administrative authority over all hubs.

---
---
CITATIONS
REFERENCE

[FAQ-1144] How to revert to an older version of a hub's programming (undo save or saves)
[FAQ-1301] Overview of Rangecast maintenance and expected support
[FAQ-1314] What are Notification e-mails?
INDEX
[FAQ-1282] INDEX - Hub Administration - Architecture
---
Rangecast FAQ - ID 1153 - last updated 31 March 2019 Images shown - [block]